DoD 8140 Training and Certification Bootcamps
DoD Manual (DoDM) 8140.03 Cyberspace Workforce Qualification & Management Program
Prepare for Success with Instructor Led Class Room Training, Instructor Led Online Training & Self Paced Electronic Led Training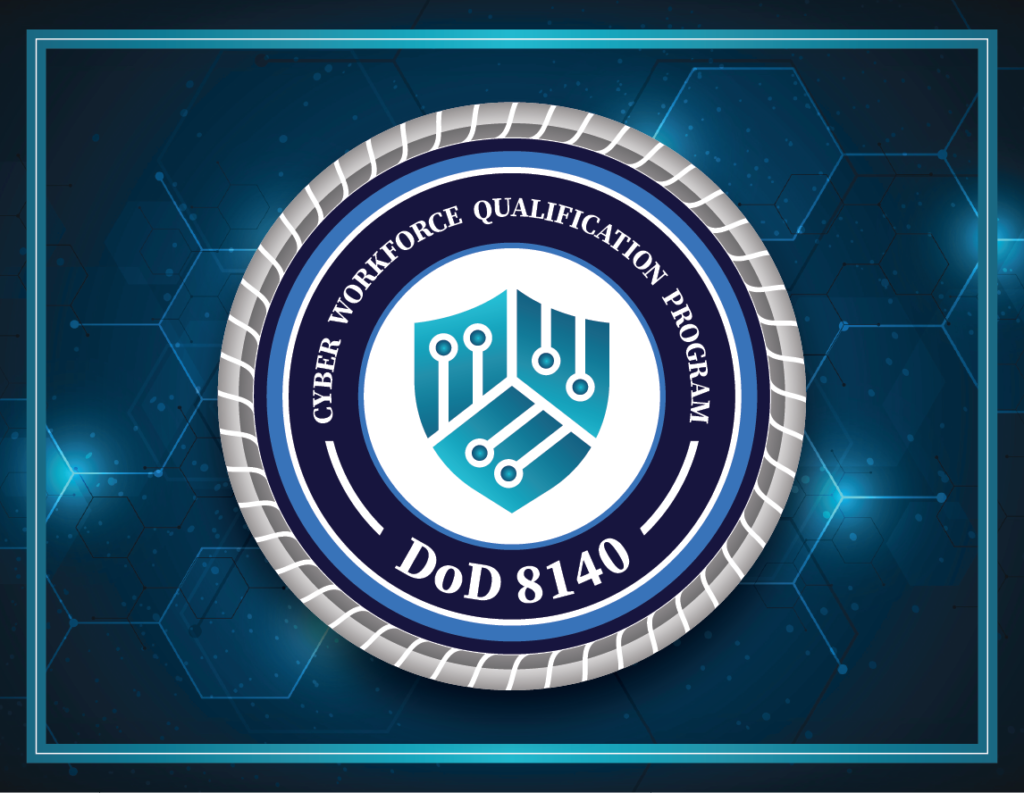 Get Certified, Stay Certified. Earn your Success with us!
Attend Training without having to Travel 
Are you under travel restrictions?  Do you not like to travel?  Or, is it that you just can't get away?  
No worries.  You can join any class via Cisco WebEx.  Interact with the instructor and other students in the classroom.
Cisco WebEx is available on Windows, Linux, MacOS and Mobile Devices
Travel to Class or join the Live Video Conference via WebEx.
WebEx brings you directly into the Classroom!
Live Online Video Conference gives you the flexibility and a cost effective way to attend Live training events from the convenience of your home, office or even while you travel.  Engineers Login and Participate in the LIVE course with other students attending the course in person.  Live Online students enjoy all the benefits as students who attend in person. Same Books, Same Labs, Same TestPrep, Same Access to the Instructor!  The only thing you miss out on is the travel, the traffic, all the extra expenses and the anxiety of making it to class on time.  WebEx is available on Windows, Linux, MacOS & Mobile devices.  No Excuses. Register today for a class and Get Certified!
Our Live Video Conference via WebEx connections bring you directly into the Classroom!
Our Training Philosophy

 
Our classes are NOT 18 hours a day! 
Our class hours are designed by expert certification instructors who know where the focus should be.  
Our instructors lecture for no more than 5 hours a day, this leaves plenty of time to run labs & prepare for your exam each day
DoD 8140 Certifications
On February 15, 2023, the Department of Defense Chief Information Officer (DoD CIO), Honorable John Sherman, issued DoD Manual (DoDM) 8140.03 Cyberspace Workforce Qualification & Management Program, the third issuance of the DoD 8140 policy series.
DoD 8140.03 provides a targeted, role-based approach to identify, develop, and qualify cyber personnel by leveraging the DoD Cyber Workforce Framework (DCWF).  The 8140.03 will require workforce members to demonstrate a foundational understanding at the work role level while also addressing personnel capability and continuous professional development at the work role level. Through these mechanisms, we will be able to track and manage cyber workforce capabilities across the DoD enterprise.
The DoD 8140 Manual replaces the DoD 8570 Manual, "Information Assurance Workforce Improvement Program," which focused solely on qualifying a section of the cybersecurity workforce centered on information assurance and computer network defense professionals using a narrow set of requirements.
With the implementation of the DoDM 8140.03, DoD Components will have a broad set of options to manage and achieve a qualified cyber workforce in the areas of information technology, cybersecurity, cyber effects, cyber intelligence, and cyber enablers.
More information about the DoD 8140 policy series, recently published manual, and other DoD CIO issuance can be found on the DoD CIO website at https://dodcio.defense.gov/Cyber-Workforce/
Level I Baseline Certification Category Roles within the DoD 8140M.03
Information Assurance Technical/Technician (IAT) – Level I
Fidelis Networks provides the certifications that aligns with 8140.03 IAT Level I category:
Information Assurance Management (IAM) – Level I
Fidelis Networks provides the certifications that aligns with 8140.03 IAM Level I category:
Information Assurance Architecture and Engineering (IASAE) – Level I
Fidelis Networks provides the certifications that aligns with 8140.03 IASAE Level I Category:
Cyber Security Service Provider Analyst (CSSP Analyst) – Level I
Fidelis Networks provides the certifications that aligns with 8140.03 CSSP Analyst Level I Category:
CEH
CCNA CyberOps
CYSA+
PenTest+
Cyber Security Service Provider Auditor (CSSP Auditor) – Level I
Fidelis Networks provides the certifications that aligns with 8140.03 CSSP Auditor Level I Category:
Level II Baseline Certification Category Roles within the DoD 8140M.03
Information Assurance Technical/Technician (IAT) – Level II
Fidelis Networks provides the certifications that aligns with 8140.03 Baseline Requirements:
Information Assurance Management (IAM) – Level II
Fidelis Networks provides the certifications that aligns with 8140.03 Baseline Requirements:
CASP+ CE
CISM
CISSP
CCISO
Information Assurance Architecture and Engineering (IASAE) – Level II
Fidelis Networks provides the certifications that aligns with 8140.03 Baseline Requirements:
Cyber Security Service Provider Infrastructure Support (CSSP) – Level II
Fidelis Networks provides the certifications that aligns with 8140.03 CSSP Infrastructure Support Level II Category:
Cyber Security Service Provider Manager (CSSP Manager) – Level II
Fidelis Networks provides the certifications that aligns with 8140.03 CSSP Manager Level II Category:
Level II Baseline Certification Category Roles within the DoD 8140M.03
Information Assurance Technical/Technician (IAT) – Level III
Fidelis Networks provides the certifications that aligns with 8140.03 Baseline Requirements:
CASP+
CCNP Security
CISA
CISSP
Information Assurance Management (IAM) – Level III
Fidelis Networks provides the certifications that aligns with 8140.03 Baseline Requirements:
Information Assurance Architecture and Engineering (IASAE) – Level III
Fidelis Networks provides the certifications that aligns with 8140.03 Baseline Requirements:
Cyber Security Service Provider Incident Responder (CSSP) – Level III
Fidelis Networks provides the certifications that aligns with 8140.03 CSSP Incident Responder Level II Category:
CEH
CHFI
CCNA CyberOps
CYSA+
PenTest+
Military and Veteran Pricing
Internetwork Academy Appreciates your Service
Contact us Now to Earn your DoD 8140 Credentials
Join our Mailing List
Keep informed about Certification updates 
Get access to Free Webinars
Receive information about special pricing and discount codes for self paced learning modules of the month